About Us
At Urban Smiles Colwood, your smile partner, our philosophy is to exceed our patient's expectations by providing health services in a positive atmosphere where patients feel respected and valued.
As your dentist in Colwood BC we offer a spa-quality environment, as well as hospitality-style service to keep our patients comfortable during their visit.
We understand that patients need and deserve individualized treatment. Our goal is to ensure that our patients are well taken care of and that their visit leaves them looking and feeling rejuvenated.
To keep you abreast of the latest benefits that we can offer, we've invested in the latest communication methods, including in-office videos and our website. Patients can subscribe to our latest news in a range of formats – view our subscription box in the right column.
We're also able to assist you with payment arrangements – just ask us at the time of your visit.
Dr. Rachel Staples DMD
General Dentist / Owner
A life-long learner, Rachel embarked on a journey of further training and hands-on learning in 2007. She attended and completed all seven core levels of neuromuscular dentistry at the prestigious LVI Global in Las Vegas, Nevada where she is currently a fellow. Rachel believes in integrating comprehensive diagnosis and contemporary techniques with the latest technologies. With this philosophy, her goal is to improve the lives of her patients and to bring beautiful smiles to all who visit her office.
Tracy R.
Dental Hygiene Coordinator
One fateful day in 2017 Tracy arrived on the Island to start a new adventure… never looking back and certainly not missing those prairie winters she endured for years and years!!
After Covid displaced her from a lifetime in the optometry field, accomplishing many different roles, she is now excited to take on a new adventure – Dental. She may not have all the answers to your questions at her fingertips but will work diligently to find solutions. Tracy enjoys the warm and relaxed nature of Urban Smiles Colwood and hopes she can make each patient walking through the door feel that way too.
Tracy's passion is lifelong learning and is certainly up for new challenges! It could be cooking a gourmet meal, exploring the Island, a mountain hike with her camera, a new puppy or a new creative hobby. She's excited for this chapter.
Sabrina
Hygienist
Sabrina Bainwohl is a Registered Dental Hygienist with seven years of experience in the field. She completed her education at the Canadian Institute of Dental Hygiene, where she gained the knowledge and skills necessary to excel in her profession. Throughout her career, Sabrina has demonstrated a commitment to providing the highest quality of care to her patients. She is skilled in performing routine cleanings and educating patients on oral hygiene practices. Sabrina is passionate about her work and is always looking for ways to improve her skills and stay up-to-date with the latest advancements in dental hygiene.
Paige
Certified Dental Assistant
Bio Coming Soon!
Jordan Wass – Little
After recently moving home to the island after a few years living in Kelowna, Jordan is bringing her burning passion for Dentistry and helping her community to Urban Smiles Colwood! In her personal life Jordan is best known for hosting barbeque weekends and playing board games, but in her day to day you can normally find her elbows deep in dental treatment plans! Jordan has joined the team as Dr. Staples Treatment Coordinator and is driven to assist in providing life changing dental treatment through understanding patient needs and bridging the gap between clinical and non-clinical patient care.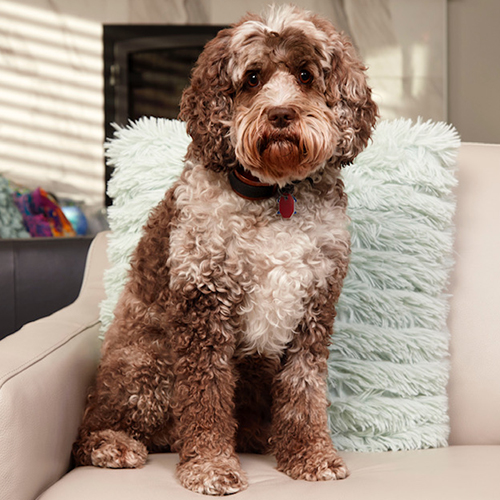 Maddie
Anxiety Support & Dogtor
Maddy is Dr Staples 5 year old Australian Labradoodle. She is hypoallergenic and non-shedding. She is an empathy dog in training and will stand or sit beside anxious patients during local analgesic injections. She loves the attention and will help distract and soothe your injection fears away. She can be seen when you come in for your Hygiene Recalls to greet you and make sure you are comfortable. Feel free to ask for her anytime. She is happy to oblige. Most other times you will find her curled up on her bed with her favorite orange ball.